UP TO 65% BETTER DEPOSIT REMOVAL THAN EXISTING METHODS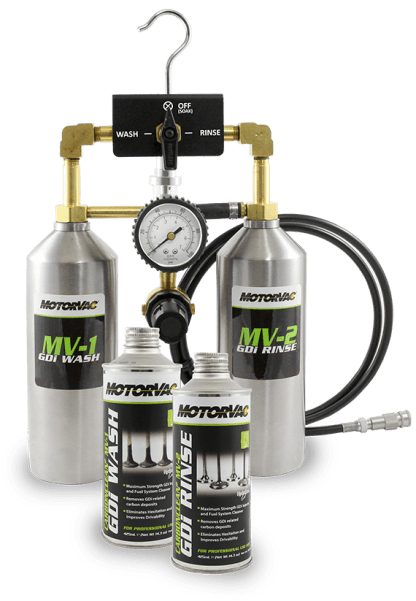 500-0467KT
MotorVac GDi Cleaning Solutions
With its patented chemicals and application process, the new 500-0467KT has been designed to dissolve or break down deposits without disassembling parts of the intake assembly. Independent testing showed that at the soak level, our chemicals were 65% better at cleaning than our competition. This kit replaces the need for walnut blasting or a complete tear down. This new kit also comes with a universal MAP sensor adapter for GDi engines. The cleaner in the MotorVac kit will emulsify the deposits and the rinse will remove the softened deposits. These deposits will easily burn in the combustion chamber. Our friction modifier will lubricate the valves and combustion chambers for better compression.
Adapters
067-1701 MV Adapter GDI Ford 1.6-2.0L
067-1703 MV Adapter GDI Ford 2.7L
067-1704 MV Adapter GDI Ford 3.5L
067-1705 MV Adapter GDi Chevrolet Cruze 1.4L
067-1710 MV Adapter GDi GM EcoTech 2.4L
067-1720 MV Adapter GDI Kia Rio 1.6L
067-1721 MV MV Adapter GDI Nissan 5.6L
067-1722 MV Adapter GDI BMW X3 2.0L Twin Turbo
067-1723 MV Adapter GDI FORD 2.3L
067-1724 MV Adapter GDI GM 4.3/5.3/6.2L
067-1730 MV Adapter GDI Universal MAP Sensor
UP TO 65% BETTER DEPOSIT REMOVAL THAN EXISTING METHODS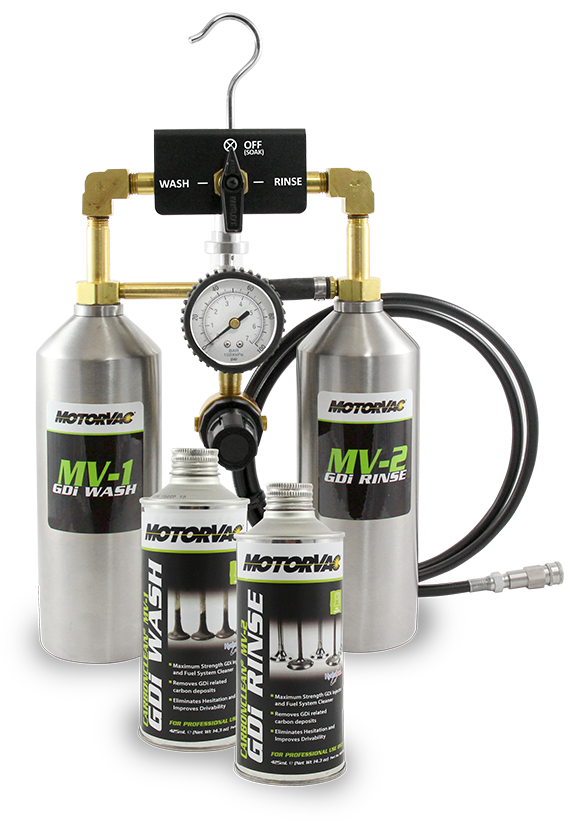 500-0467KT
MotorVac GDi Cleaning Solution
BLACKMAX Black and ChromeTM Triple Seal Series manifolds from CPS Products, Inc. are designed for HVAC/R technicians who require premium performance, ease-of-use, high quality materials and attractive design in a 2 valve manifold. The MBH4P5EZ manifold has all these qualities plus a long list of innovative features that benefit technicians.
Adapters
067-1701 MV Adapter GDI Ford 1.6-2.0L
067-1703 MV Adapter GDI Ford 2.7L

067-1704 MV Adapter GDI Ford 3.5L
067-1705 MV Adapter GDi Chevrolet Cruze 1.4L
067-1710 MV Adapter GDi GM EcoTech 2.4L
067-1720 MV Adapter GDI Kia Rio 1.6L
067-1721 MV Adapter GDI Nissan 5.6L
067-1722 MV Adapter GDI BMW X3 2.0L Twin Turbo
067-1723 MV Adapter GDI FORD 2.3L
067-1724 MV Adapter GDI GM 4.3/5.3/6.2L
067-1730 MV Adapter GDI Universal MAP Sensor