UP TO 65% BETTER DEPOSIT REMOVAL THAN EXISTING METHODS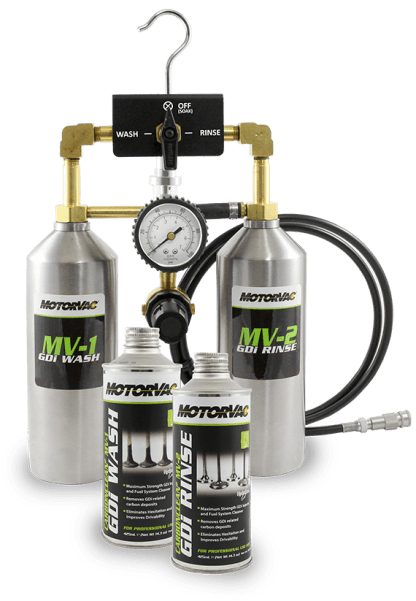 MotorVac GDi
Cleaning Solutions
500-0467KT
With its patented chemicals and application process, the new 500-0467KT has been designed to dissolve or break down deposits without disassembling parts of the intake assembly.

Independent testing showed that at the soak level, our chemicals were 65% better at cleaning than our competition.

This kit replaces the need for walnut blasting or a complete tear down.
This Kit Includes
1 MotorVac GDi Induction Tool
1 GDi Induction Chemical Kit for Cleaning and Rinse
1 Universal MAP Sensor Adapter
Available Adapters*
067-1701 MV Adapter GDi Ford 1.6-2.0L
067-1703 MV Adapter GDi Ford 2.7L
067-1704 MV Adapter GDi Ford 3.5L
067-1705 MV Adapter GDi Chevrolet Cruze 1.4L
067-1710 MV Adapter GDi GM EcoTech 2.4L
067-1720 MV Adapter GDi Kia Rio 1.6L
067-1721 MV Adapter GDi Nissan 5.6L
067-1722 MV Adapter GDi BMW X3 2.0L Twin Turbo
067-1723 MV Adapter GDi FORD 2.3L
067-1724 MV Adapter GDi GM 4.3/5.3/6.2L
067-1730 MV Adapter GDi Universal MAP Sensor
*Adapters listed are not included in this kit
UP TO 65% BETTER DEPOSIT REMOVAL THAN EXISTING METHODS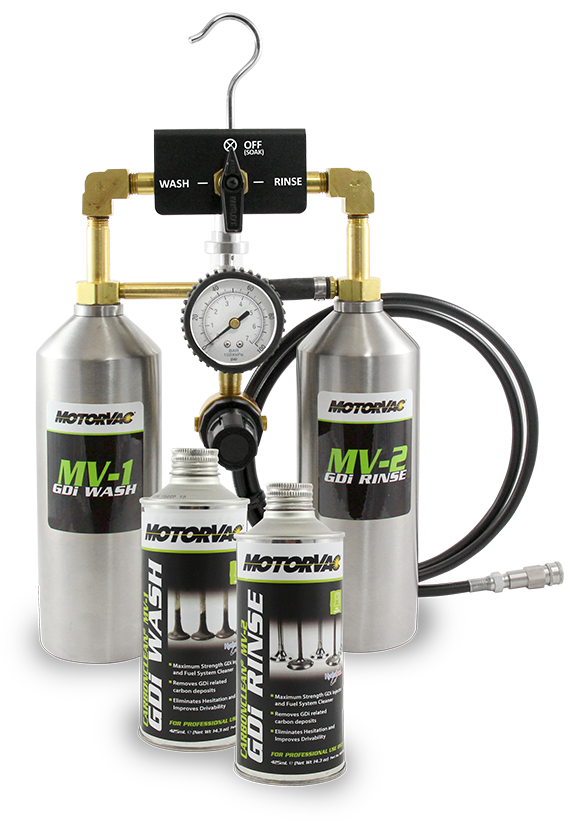 MotorVac GDi Cleaning Solution
500-0467KT
BLACKMAX Black and ChromeTM Triple Seal Series manifolds from CPS Products, Inc. are designed for HVAC/R technicians who require premium performance, ease-of-use, high quality materials and attractive design in a 2 valve manifold. The MBH4P5EZ manifold has all these qualities plus a long list of innovative features that benefit technicians.
Learn More…
This Kit Includes
1 MotorVac GDi Induction Tool
1 GDi Induction Chemical Kit for Cleaning and Rinse
1 Universal MAP Sensor Adapter
Available Adapters*
067-1701 MV Adapter GDi Ford 1.6-2.0L
067-1703 MV Adapter GDi Ford 2.7L
067-1704 MV Adapter GDi Ford 3.5L
067-1705 MV Adapter GDi Chevrolet Cruze 1.4L
067-1710 MV Adapter GDi GM EcoTech 2.4L
067-1720 MV Adapter GDi Kia Rio 1.6L
067-1721 MV Adapter GDi Nissan 5.6L
067-1722 MV Adapter GDi BMW X3 2.0L Twin Turbo
067-1723 MV Adapter GDi FORD 2.3L
067-1724 MV Adapter GDi GM 4.3/5.3/6.2L
067-1730 MV Adapter GDi Universal MAP Sensor
*Adapters listed are not included in this kit